November 20: Dan Blake and The Digging come to Erv's, 2122 Beekman Place, 8-10 pm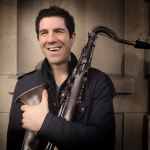 Multi-instrumentalist and composer Dan Blake "regards tradition as a welcoming playground best approached with a sense of wonder and adventure" (The Boston Globe). His music has been called "stunning" (All About Jazz), and he was dubbed a "virtuoso" (The New York Times). He has recorded with his own projects and with jazz and pop luminaries — Esperanza Spalding, Anthony Braxton, and John Cale, among many others. As a composer of extended works for string quartet, orchestra, sound installation, and hybrid chamber/improvising ensembles, Blake gravitates toward collaborations with artists who share a desire to move beyond creative boundaries. The Mivos Quartet, the Tri Centric Orchestra, Talea, and many others have commissioned and recorded his works.
A musician keenly interested in bringing music together with social justice causes, Dan Blake produces the annual Concert To Feed The Hungry. He also holds a Ph.D. in composition from the City University of New York and is currently on faculty at the New School for Social Research and at the Conservatory at Brooklyn College.
Watch a video here. Come see The Digging at Erv's: Dan Blake -saxophones; Dmitry Ishenko – bass; Joe Hertenstein – drums. And Flava's in the kitchen preparing vegetarian and meat options.
PLG Arts Music Series is always free (donations are happily accepted) and happens the third Wednesday of every month. Come often!