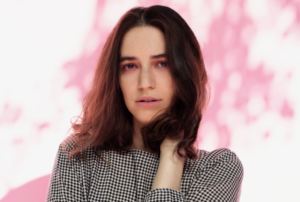 Brooklyn based Kami Maltz brings the resonance of her native Israel, the passion of her second home, Argentina, and a decidedly New York electronic vibe to her performances. With a smooth voice, her autoharp, and her new band, Kami conjures a sensuous combination of folk and indie elements, with an added touch of cotton-candy, pop embellishments. https://www.kamimaltz.com/
"Imagine Joanna Newsom's voice on top of the swirling instrumentals of a Lorde song. That sums up Kami Maltz's music in a nutshell. The Brooklyn singer/songwriter released a new single chock full of that hypnotizing sound… it sports masterful production bringing out the humming basses and ethereal synths" – The Deli
_________________________________
Rosemary Minkler, opening for Kami Maltz, is an accomplished pianist, composer, and audio engineer. She grew up surrounded by music and began studying piano at an early age, discovering her passion for jazz. She continued her studies on a full scholarship to Western Connecticut State University, where she received a degree in Audio and Music Production with a concentration in Jazz Piano. Rosemary lives in Brooklyn, New York. Her debut album, Prospectus, as well as several recent singles are available for purchase and streaming on iTunes, Spotify, Apple Music, etc. For more info, visit her website at rosemaryminkler.com
Music at Erv's, 2122 Beekman Place, right off Flatbush Ave.
Erv's full bar PLUS Brrrito Dave's vegan, vegetarian and meat burritos.
Erv's was a Critic's Pick in New York Magazine. And DNA said: "The best hidden gem this side of Prospect Park…"
PLG Arts presents music at Erv's the third Wednesday of every month. Admission is free! (Donations are much appreciated.)
Add your event to our Community Calendar. Become a PLG Arts member here.
FOR MORE INFO: [email protected]
Like us on Facebook!