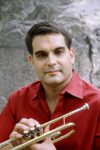 The Jon Menges Quartet
Jon Menges-Trumpet; Adam Kolker-Tenor Sax; Joe Fitzgerald-Bass; Robert Weiss-Drums
A trumpeter, composer, arranger, and music copyist, Jon Menges's creative and talented musical programs delighted audiences in the Chicago area for many years. Jon has performed with such great artists as Cab Calloway, Lou Rawls, Neil Sadaka, Leslie Uggams, Joel Gray, Jim Nabors, Freddie Cole, and Jon Faddis. As well as having traveled all over the world playing shows on cruise ships, Jon toured the country with the orchestras of Russ Morgan and Guy Lombardo. Jon also did a U.S. tour of the Broadway show Copacobana.  Today, Jon resides and freelances in the Prospect-Lefferts area of Brooklyn, playing, writing, and teaching all styles of music.
On Friday, April 14, Jon comes to KD's, 408 Rogers Avenue (betw Lefferts Ave & Sterling St), playing from 7:30-9:30. Food and drink are available.
A $5 suggested donation supports the musicians and PLG Arts.
\Artists –performing and visual– post your events free on our new PLG Arts Community Calendar: PLG Arts accepts listings for entertainment and community events. For more info and to post your event, visit plgarts.org.