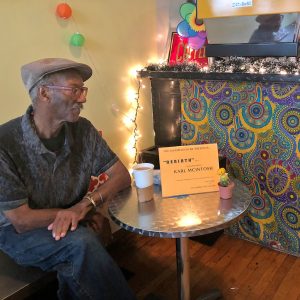 The Chameleon BK, a cozy social cafe, is hosting the works of local PLG artist Karl McIntosh. Now through the end of October.
The Chameleon BK
www.thechameleonbk.com
546 Flatbush Avenue (between Lincoln Road and Maple Street).
MON-FRI: 7:00am – 4:00pm
SAT & SUN: 8:00am – 4:00pm
About the Artist
Karl A. McIntosh's work have been exhibited at numerous venues across the country including Dorsey's Art Gallery, The Skylight Gallery, MoCada (The Museum of Contemporary Diasporian Art), 843 Gallery, The National Black Fine Art Show, Color: The Chicago Black Fine Art Exposition, The Fulton Art Fair, The George Washington Carver Gallery, The Red Piano Too (St. Helena SC), McIntosh is also proud to add the Brooklyn Museum to his already impressive list. He was mentioned in the April 16th, 2004 edition of the New York Times in an article in connection with "Open House" the Brooklyn Museum exhibition. Some call McIntosh a folk artist, others call him primitive, some say he's an "outside" the mainstream artist, but what ever the title, most would probably agree that an apt description of McIntosh is that he is simply a genius.