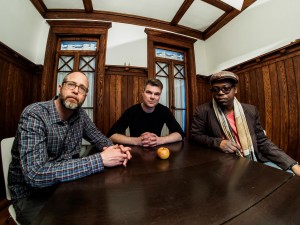 Michael Bates: Northern Spy
Take one listen to the joy and energy of this unpredictable band and you're sure to get caught up in the excitement.  They'll be playing at the Inkwell Jazz Cafe, 408 Rogers Ave between Sterling St & Lefferts Ave, on Friday, May 22, from 7-9 pm.
Northern Spy veers happily between wide-open jazz, the swing tradition and heavy grooves. Michael Bates on double bass, Michael  Blake on saxophone and Jeremy "Bean" Clemons on drums play with intensity and fire, manhandling the blues into unexpected musical
shapes.
Check the music before you come or after by clicking here.
$5 suggested donation supports the musicians and PLG Arts. Enjoy some great music and be part of the community at the Inkwell this Friday night. Craft beer, wine, and liquors available, plus good eats.