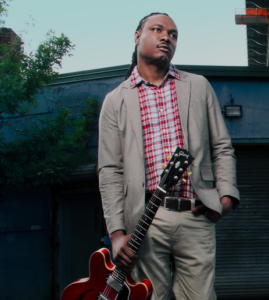 The Marvin Dolly trio plays a fusion of Caribbean jazz with calypso and East Indian music. Marvin has played with jazz musicians such Lonnie Plaxico, Alvester Garnett, Mark Shim, Renee Neufville, and Wess Anderson, just to name a few.
The Trio: Marvin Dolly – Guitar; Will Slater – Bass; Michael Vitali – Drums
The Marvin Dolly Trio will play original music from his up-and-coming record, which will be released in spring of 2017. $5 suggested donation supports the musicians and PLG Arts.
KD's is at 408 Rogers Avenue between Sterling St & Lefferts Avenue. Showtime: 7:30 – 9:30 pm.
Artists –performing and visual– post your events free on our new PLG Arts Community Calendar: PLG Arts accepts listings for entertainment and community events. For more info and to post your event, visit plgarts.org.