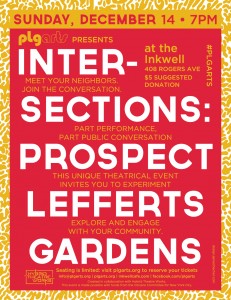 INTERSECTIONS is part performance, part community-outreach, part public conversation, part investigation of the shared responsibility of a neighborhood.  Using as a springboard the metaphor of intersections and crossroads, this project uses interviews of Prospect Lefferts Gardens residents to create a performance event which invites audiences to meet their neighbors and intersect with their community.
CLICK HERE TO RESERVE YOUR TICKETS
$5 suggested donation ~ One night only! Seating is limited!
SUNDAY, DECEMBER 14th @ 7 pm
INKWELL CAFE – 408 ROGERS (at Sterling)
Directed by Rebecca Martinez and Tracy Cameron Francis
in collaboration with the cast
and featuring the voices of Prospect Lefferts Gardens residents
___________________________________________________________________________
Created in collaboration with Hybrid Theatre Works
 This event is made possible with funds from the Citizens Committee for New York City