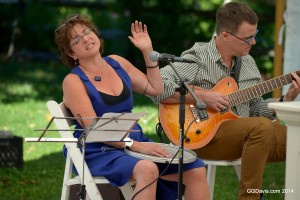 New York native Nick Moran holds a BFA in jazz performance from the City College of New York. Bandleader Moran fronts his own trio in venues such as the NY Bahá'i Center, the Brooklyn Museum and the Bar Next Door. Jazz Music writes: "His exceptional composing ability and fertile writer's imagination are reflected in a playing style that is transparent in its articulation, logical, devoid of trite cliches."
Carol Leven began her career in musical theater and has worked extensively in New York City for more than two decades. She has studied with some of the greatest vocal legends, including Sheila Jordan and Mark Murphy. Leven excels at writing fresh melodies and witty lyrics, plus producing innovative arrangements in a variety of genres, including Motown, the Great American Songbook, pop, blues and jazz standards. Listeners open their ears and minds to music that is vibrant, original, and intimate.
  "A wonderful talent and a fine singer," said world-renowned vocalist Sheila Jordan of Carol Leven. She joins guitarist Nick Moran for a night of song, both standard and popular. They combine voice, percussion, 7-string guitar and live looping to create a sound that's rich, surprising and fun.
Click here to sample some of Nick's music and here for some of Carol's. Enjoy!
Be sure to join us Friday, January 9, 7-9 pm, for an exciting evening of music when Nick & Carol perform at the
Ink Well Cafe
408 Rogers Ave
between Lefferts Ave and Sterling St.
Try the Inkwell's new expanded menu plus soul food selections, fine wines and beers.
Your $5 donation supports the musicians and PLG Arts! Come and meet your neighbors, hear some fine music, and support the arts all at once.
FOR MORE INFO: [email protected]
Like us on Facebook!