PLG Arts (Prospect Lefferts Gardens Arts), in collaboration with Davalois Fearon Dance (DFD), presents Music and Dance at Parkside Plaza, an outdoor, block party-style event that celebrates the rich Caribbean heritage of Flatbush/ Prospect-Lefferts Gardens (PLG) and the growing community of local artists. The free performance will take place on October 17th at 2 pm at Parkside Plaza, located at Parkside Ave and Ocean Ave, Brooklyn, NY 11226. The event will feature live drumming by Ryan Greenidge, Agyei Phillip, and Rasaan Green, and the music of composer and woodwind player Mike McGinnis, Dancehall, and Reggae facilitated by D.J. Ayanna Heaven, and a site-specific performance of Finding Herstory and community dance-along led by Davalois Fearon.
The Stephen Petronio Company (SPC) commissioned Davalois Fearon to create Finding Herstory for the 2021 Bloodlines(future) Program. SPC moves into the next phase of his Bloodlines project, looking towards future generations of artists and heirs to the Bloodlines lineage and how these historical masters frame the future of modern dance. Stephen Petronio Company's Bloodlines, which began in 2015 and has since restaged 12 iconic dances. These masterpieces have irrevocably marked the American postmodern dance landscape and have had a particular impact on Petronio's thinking
The Finding Herstory performance will be a site-specific version created and performed by Davalois Fearon with the assistance of Careitha Davis. Davis is the founder of BodyRa, a New York City-based company that seeks to connect the mind, body, and spirit through the Caribbean movement. Finding Herstory is inspired by Africanist forms such as reggae and dancehall that have contributed to the American dance landscape and shaped Fearon as an artist. The piece pays homage to various dance forms, including Kumina, Doundounba, Congolese, Ska, Reggae, Dancehall, and highlights Fearon's signature "gymnastic and natural" choreography.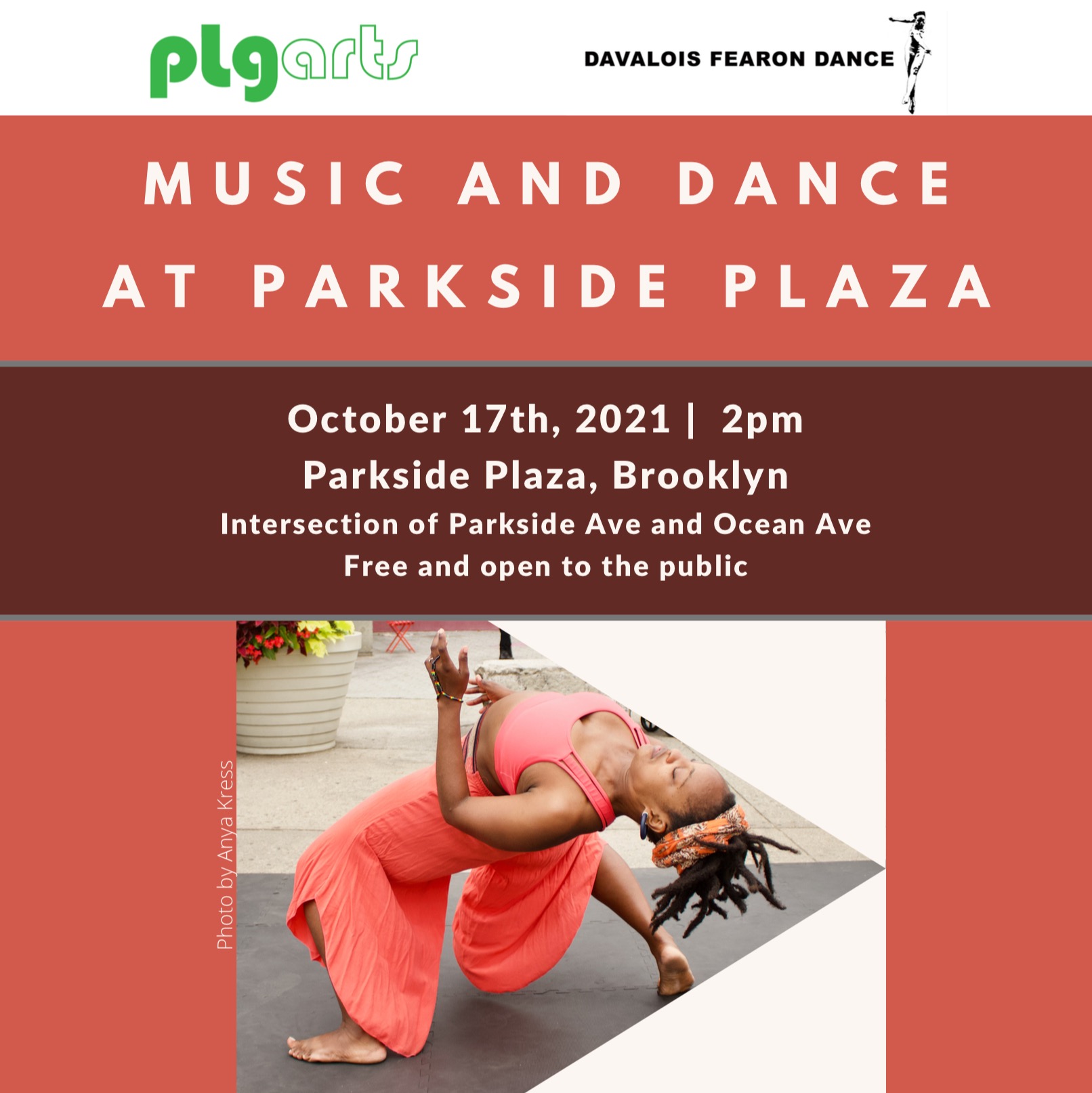 PLG Arts promotes the arts and local artists, and presents free arts events that celebrate the vibrant creativity and diversity of Prospect-Lefferts Gardens.This event was made possible, in part, by funds from the Statewide Community Regrants Program, a regrant program of the New York State Council on the Arts with the support of the Office of the Governor and the New York State Legislature and administered by Brooklyn Arts Council, public funds from the New York City Department of Cultural Affairs in partnership with the City Council and Green/Arts LIVE NYC. GREEN / ARTS LIVE NYC is made possible with support from New York Community Trust and Con Edison's Arts Al Fresco Series, administered by City Parks Foundation in collaboration with the Horticultural Society of New York, New Yorkers for Culture & Arts, NYC Department of Transportation, OpenCultureWORKS, and Street Lab. It was produced collaboratively by PLG Arts and Davalois Fearon Dance (DFD). In addition, this program is supported, in part, by the Howard Gilman Foundation, The Jerome Foundation, the Dance/NYC's Dance Advancement Fund, made possible by the Ford Foundation, the Doris Duke Foundation Performing Artist Recovery Fund in The New York Community Trust. Finding Herstory is commissioned by the Stephen Petronio Company for the 2021 Bloodlines(future) Program, made possible, in part, by public funds from the New York State Council on the Arts with support from Governor Kathy Hochul and the New York State Legislature. DFD is fiscally sponsored by Foundation for Independent Artists, Inc., a non-profit organization administered by Pentacle (DanceWorks, Inc.). Pentacle is a non-profit management support organization for the performing arts. www.pentacle.org