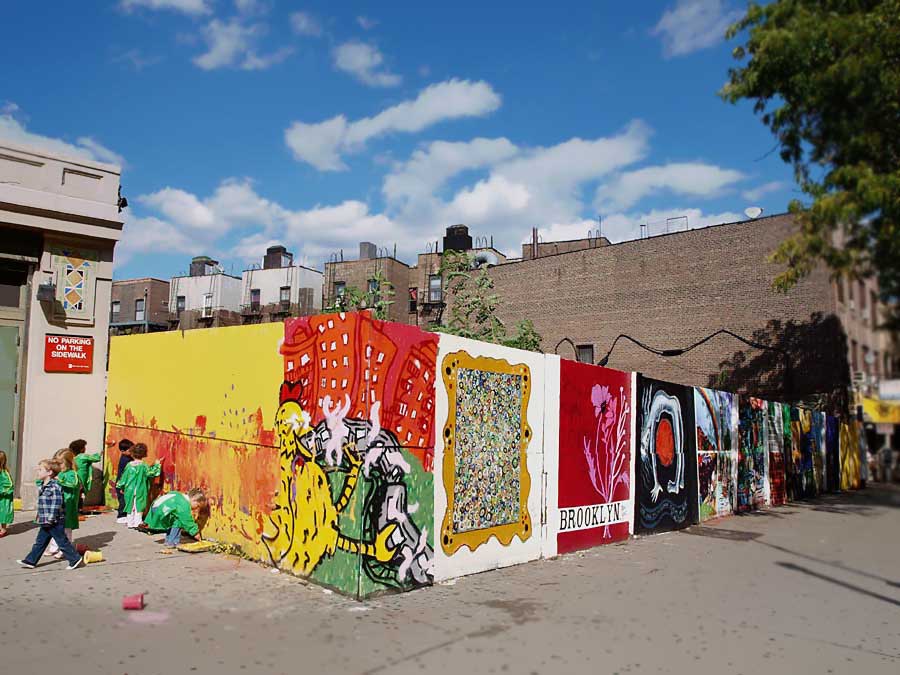 In September 2009, more than 25 visual artists from the community, along with neighborhood teens, young children, and preschoolers from the Maple Street School created unique murals on the walls surrounding the large L-shaped (lapsed) construction site that faces Lincoln Road between Flatbush and Ocean Avenue and Flatbush just north of Lincoln Road.
A crew of volunteers of all ages worked hard to prime the walls in preparation for the artists. Many more neighbors participated by decorating hundreds of tiles for the mosaics on the panels on Flatbush Ave. Visitors to our area and neighbors returning home no longer confront an eyesore— they are now greeted by vibrant, colorful murals that celebrate our community.
The mural project was an opportunity for community members to come together to make a positive visual statement about who we are. It is also an act of care-taking for the physical space that makes up our neighborhood. By involving children, the project helps instill the idea that a community consists of the people who live in it, working together, as well as the concept that community members have a responsibility to preserve and improve their neighborhood.
This project would not have been possible without the hard work and dedication of so many neighborhood volunteers! Thank you all!
The PLG Arts Community Mural was made possible by a New Yorkers for Better Neighborhoods grant from the Citizens Committee for New York, with supply contributions from the Hamilton Avenue Home Depot, Cafe Enduro, K-Dog and Dunebuggy, and the amazing talented artists, dedicated community volunteers and neighbors of Prospect/Lefferts Gardens! PLG Arts would also like to acknowledge the permission of Park Tower Associates and the ongoing support of State Senator Eric Adams and his wonderful staff. For more information contact Bob at [email protected].
Panel Photos
Introduction
Artist Vignettes
Mural Project panel artists tell the story behind their panels. Videography by Seth K.
Margaret Whitehair
Daniel Goers and Jennifer Wong
Daniel Freeman
Karl McIntosh
Kelley Bush
Otto Neals
Kendra Palmer
Participating Artists/Artist Bios
Click on each artist's photo to view larger photos and selected artwork.
Susan Berkowitz
Website: www.thedoggywood.com
Aurora Downer
Aurora Downer's family have been residents of Prospect Lefferts Garden since 1960. Aurora, like her mother Jeanne, is an artist and a teacher. Together they opened an art gallery, AuroraJeanne Art in Downtown Brooklyn. Aurora has work on display in the Education Gallery at the Brooklyn Museum. Aurora currently teaches elementary school children in Brooklyn.
Madeleine Fix-Hansen
Madeleine Fix-Hansen (aka Maddie Fix) is an interdisciplinary artist & musician whose drawings, film/video work and music (m.fix) have shown/been performed at venues including Artists' Television Access (San Francisco), The Chicago Underground Film Festival, Woman Made Gallery & Acme ArtWorks (Chicago), La Superette Affordable Art Sale (New York), Not My Small Diary zine. She has a dual life as an instructional/multimedia designer for higher education, libraries and the arts and volunteers for the Willie Mae Rock Camp for Girls and WFMU Radio.
Website: www.madeleinefix.com
Dan Freeman
Daniel W. Freeman is a "post modern" figurative painter who has shown in many New York Galleies and is in numerous public and private collections. In 1980, Dan Freeman published "Down Under Manhattan Bridge", DUMB magazine. He is currently associated with The Unbearbles, a collective of poets and artists. His work has appeared in several Unbearables' literary efforts, most recently "The Worst Book I Ever Read". Dan has collaborated with several poets and artists, most notably artist Red Grooms, poet Barry Yourgrau, and poet/musician Lou Reed.
Website: www.danfreeman.org
Daniel Goers and Jennifer Wong
Artist Vignette
A crafty collaboration between a Brooklyn architect and an engineer. Using found materials from the trash, Daniel builds birdhouses, furniture and other funky things. Additionally, he works on illustrations and paintings of cute critters, lumbering dinosaurs, and hearty plants. All work is done with Jennifer's moral support and creative criticism. Jennifer also draws and sews clothing from recycled materials. For this community mural piece, they have used an oddity of the internet (our global community) for inspiration.
Haruka Horiuchi
Haruka Horiuchi is a graduate student in architecture at MIT, and is about to begin work on her thesis project starting in September. She is currently looking at stopped construction sites as potential spaces for new types of architectural engagement, and feels that the PLG Community Mural project is a great way to create something positive out of a negative moment.
Matt Harvill
Matt Harvill is a native of Texas and art school drop out whose current work blurs the lines between abstraction and figural form. The work draws viewers closer to examine his unique technique, but it takes some distance to realize the consequent forms.
Website: www.mharvill.com
Tess Korobkin
Tess Korobkin is a Brooklyn-based artist and educator. Her arts-based youth development work includes two years as Program Director at Voices UnBroken, a Bronx non-profit serving youth in detention and alternative facilities. Recently, Tess co-directed Artistic Noise's Art and Entrepreneurship Program at the Next Generation Center in the Bronx and painted murals with the Brooklyn Arts Council and the Bronx Defenders. Tess is also a resident artist at SWAP (Supporting Women Artist Project), a program that provides free studio space to emerging female artists in exchange for mentoring a female high school student. Tess received her BA in Studio Art and American Studies from Yale.
Website: www.tesskorobkin.com
Jamie Lubetkin
Jamie graduated from NYU with a degree in Studio Art, concentrating primarily on drawing and painting. She loves going to museums and art galleries, and finds inspiration through the diversity of NYC: the people, different neighborhoods, architecture, and New York moments, experiences unique to the city. Her art is a mix of realism and exaggeration, characterized by a youthful energy and color.
Karl Macintosh
The Maple Street School
We are a diverse pre-school that inspires children through play and discovery. The active participation of families and teachers fuels the Cooperative model. The Maple Street School is a non-profit, non-sectarian, diverse pre-school serving two- to five-year-old children and their families in Prospects Lefferts-Gardens and surrounding communities. We have been nurturing and educating young children since 1977 In September 2001, we relocated to our permanent space adjacent to Prospect Park and the Brooklyn Botanical Garden, and uniquely and conveniently located above a subway station. Our teachers are warm, professional, and dedicated to providing all children the best possible care and education. Children at the Maple Street School develop a love of learning and exploration of the world around them.
Website: www.maplestreetschool.org
Keith T. Monda
Keith T. Monda is a visual artist who lives and works in Prospect Lefferts Gardens. He shows with Galerie Mourlot in Manhattan and has had solo shows in Brooklyn, Manhattan and Los Angeles. His work can be found in the Boston Public Library and the University of Richmond collections. Additional images of his work can be viewed at keithmonda.com and galeriemourlot.com.
Otto Neals
Raul Pacheco, Jr.
Kendra Palmer
Laurie Sheridan
Laurie Sheridan is a multi-disciplinary artist whose work has been shown in galleries and museums nationally. She has done public mural and restoration work with community groups such as Art For Change and Artmakers. She teaches ESL (English as a second language) and is a scenic painter for film and television.
Email: [email protected]
Lesley Wheeler
Lesley Wheeler is a poet and artist who lives in PLG with her husband and dog Dinah. She teaches art at an elementary school on Coney Island.
Margaret Whitehair
Margaret Whitehair, Colombian-American, is a multicultural and multi-disciplinary artist. She studied painting at The Art Institute of Chicago, the Universidad de los Andes in Bogota, and at L'Ecole des Beaux Art in Rennes, France. Her artwork has been shown in galleries around the world, including several group shows in NYC. Whitehair's work alternates between the abstract and the surreal. She frequently explores the themes of spirituality, femininity, and how humans interpret, affect and relate to the natural world, invoking both a sense of lonely isolation as well as tender beauty. Whitehair has also been deeply involved in music and dance. She performs regularly with her band Pamplemousse. Margaret strives to integrate all her experiences in dance, music and art in her work.
Website: www.margaretwhitehair.com
Danijel Zezelj
Danijel Zezelj is a comic book artist, painter and illustrator and author of eighteen graphic novels. His work has been published by DC Comics/Vertigo, Marvel Comics, The New York Times, Harper's Magazine, SF Guardian, Editori del Grifo, Edizioni Charta, etc. Since 1999, in collaboration with musician Jessica Lurie he created a series of multimedia performances merging live music with live painting. These have been presented at festivals, clubs, churches and squats throughout the Europe and USA. He lives and works in Brooklyn.
Website: www.dzezelj.com
Phoebe Zinman
Phoebe Zinman was born and raised in Philadelphia and South Jersey and currently lives in Flatbush, Brooklyn. For the past ten years she has worked at using creative writing and visual art to benefit communities through mural projects, workshops in public schools, libraries, crisis centers, treatment facilities, and programs for at-risk and adjudicated youth. She recently wrote a book, Visual Restoration, documenting a restorative justice mural project in Philadelphia and is now at work on a public art project that uses altars as a way to examine immigration experiences and capture oral histories.
Website: www.theperfectmetaphor.com