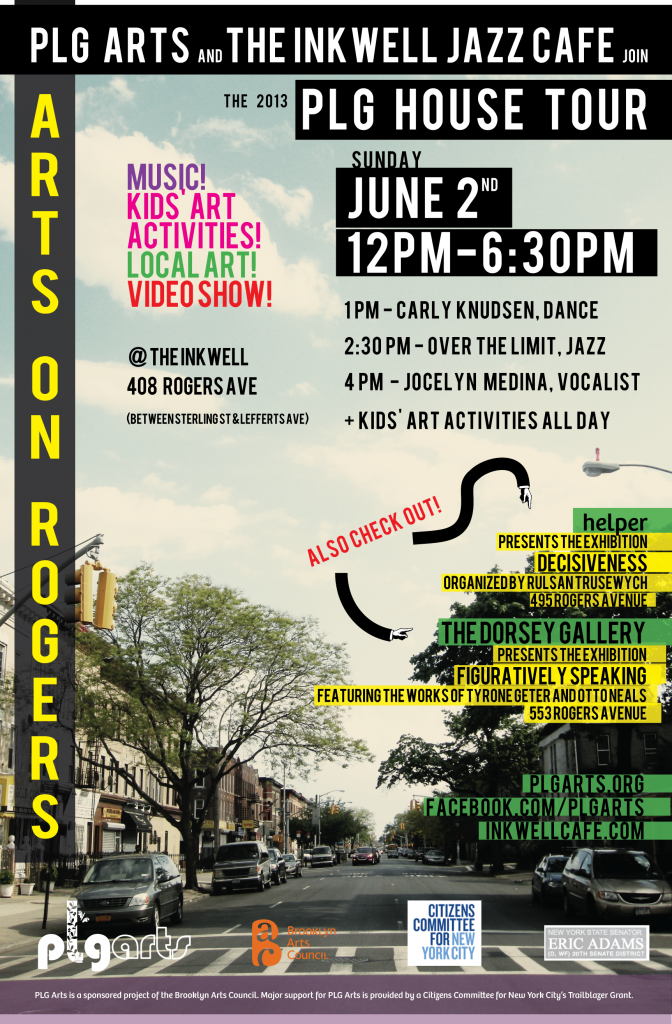 PLG Arts presents,
ART & MUSIC on Rogers Ave.
This Sunday, June 2nd, as part of the Prospect Lefferts Gardens House & Garden Tour join in the fun on Rogers Avenue.
PLG ARTS at the INKWELL
408 Rogers Avenue (between Sterling St. and Lefferts Ave.)
PLG Arts presents an afternoon of music, dance and children's art activities,
Noon–6:30PM
The Dorsey Gallery
553 Rogers Avenue (between Fenimore and Hawthorne Sts.)
Figuratively Speaking, an art exhibition featuring the works of Tyrone Geter and Otto Neals.Noon–6PM.
The Dorsey Art Gallery, established in 1970 by the late Lawrence Peter Dorsey, is the oldest, continuously active, black-owned art gallery in New York City.
helper
495 Rogers Avenue (between Maple and Midwood Sts.)
This studio and gallery space presents Decisiveness, an art exhibition organized by Rulsan Trusewych. Noon–6PM
Music and Dance at the Inkwell
408 Rogers Avenue (between Sterling St. and Lefferts Ave.)
all ages welcome
1PM: Carly Knudson
'Dance With the Stars' at the Inkwell—lessons and performances for children and adults.
2:30PM: Over the Limit
Jon Blanchette, guitar; Alex Clough, keys; Jon Barnes, bass; Joe Izzo, drums. Over the Limit performs a high-energy brand of jazz/rock fusion. Created by guitarist Jon Blanchette, Over the Limit mixes funk/fusion staples, reworkings of jazz standards, and funky originals. For more information: 
www.sonicbids.com/overthelimit
4PM: Jocelyn Medina Trio
Jocelyn Medina, vocals; Jamie Reynolds, keys; Zack Lober, bass. The sounds and styles of vocalist/composer (and PLG resident) Jocelyn Medina fuses elements of Brazil, Spain, Africa and India with jazz harmonies, funk grooves and adventurous improvisations.
As a bandleader, she has toured throughout the U.S., Europe and South America.
Also don't miss
Artist Daniel Freeman's open studio
98 Sterling Street (between Washington and Bedford Aves.)
The artist's "American Dream" series of paintings will be on display. Noon–5PM