ArtMart 11225 was an annual outdoor arts and crafts market on Lincoln Road featuring original work by Brooklyn artists and artisans. For a small fee, artists registered for a space to sell their work. Local musicians performed throughout the day. ArtMart was promoted locally and through the media.
Community members would meet and greet local artists,  find the unique products while spending some quality time on Lincoln Road.
ArtBid 11225 was a silent auction event, where works donated by local artists were sold in a silent auction. The artists are able to set reserve and minimum bids, and may opt to receive 25% of the selling price.
ArtMart 11225 was retired after 2010.  Many of the artists, crafters and musicians from past years took part in The Neighborhood Show: October 30 to November 13, 2011
Artmart 11225 2009
The 4th annual ArtMart11225 took place on Sunday, October 4, 2009 and the event was once again a great success! Over 20 vendors sold a wide variety of hand-crafted goods and original art on Lincoln Road. Neighbors enjoyed a beautiful day of shopping, great food, and live music performed by talented local musicians of all ages. Special thanks to Community Board 9, Christine Gant, Leslie Ward, and the whole planning committee!
ArtMart 11225 Photos
Vendor Bios
Barbara Harrison Caban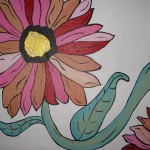 Barbara is a full time self-taught artist who is based in NYC & the UK. She works in a range of media including, painting, wood & papier mache sculpting, textiles & lino prints—primarily work with acrylic paint, incorporating beads, glitter and paper at times. She has had many solo & joint shows. Commissions accepted.
Website: www.studiolop.com
Alicia Goodwin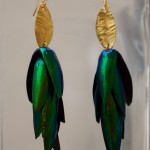 Lingua Nigra is an organically designed jewelry company created by Alicia Goodwin. Since 2003 Alicia has been creating unique brass and sterling silver jewelry in her Brooklyn studio. Having earned a degree in Fashion Design and Jewelry Design from New York's Fashion Institute of Technology, she designed jewelry with a purpose to be worn for years as works of art. With an interest in tribal body jewelry, ancient and modern tribal designs and the Victorian era, Alicia creates beautiful pieces indicative of Lingua Nigra.
Website: www.linguanigra.com
The Nkweti Sisters
The Nkweti Sisters invest a lot of time finding unique items throughout the country and specializes in a blend of vintage items, vintage-inspired items, and some of our own creations too. And the best part is that our prices are great!!
Website: www.VintageBlvd.com
Emerald B
Emerald B. is a writer and artist originally from Miami. Inspired by Prospect Park, graffiti in New York and traditional American-style tattoo designs, Emerald has created a unique collection of paintings specifically for PLG ArtMart. Aiming to put her work in the hands of every day admirers, she has studied subjects which can be recognized and appreciated by almost everyone and has priced her artwork—which will keep for a lifetime—well below the cost of dinner and a movie.
Email: [email protected]
Nordea Soaperie
My name is Nordea McKoy, and I have been making handmade soap from scratch for 5 years. Using the best quality ingredients, I concentrate on creative scent blends and colorful designs. The company has branched out to include body products like whipped shea butter, sugar scrubs, and perfumes. Also available are products for the home like scented sachets, and knitted washcloths.
Website: www.NordeaSoaperie.com
Lovely Day Designs
Lovely Day Designs came out of Lu Lasson's philosophy that housewares should be fun. Lu uses beautiful papers and quirky images for light switch covers and magnets, and unique containers for wonderfully-scented soy candles to help you add a little lovely to every day!
Website: www.LovelyDayDesigns.com
Yania Creations
Creating gemstone jewelry in gold filled and sterling silver, designing charms and gems for spiritual healing, and making both simple and sophisticated pieces is what I love to do and what I have been doing for the last 3 years of my life.
My background in Music and Film and Television Production, along with a lifetime desire to design and produce beautiful things, lead to the creation of the pieces you see at Yania Creations. What once began as a hobby, putting a few stones together has now become my passion and a bit of an obsession too.
My jewelry can be simple and contemporary, but I also like to create sophisticated and complex pieces that are glamourous and timeless. Make a fashion statement, be unique! All of my pieces are handcrafted only by me with my endless attention and care.
Website: www.yaniacreations.com
Suzanne Coley
Suzanne Coley is the Artist-In-Residence/Art Collective Director of Community Access. She specializes in one of kind and limited edition artists' books.
Website: www.suzannecoley.com
PLG Arts
PLG Arts promotes the arts, supports local artists, and builds community through celebrating the vibrant collective creativity of Prospect Lefferts Gardens and surrounding Brooklyn neighborhoods.