December 20, 2017 8:00 pm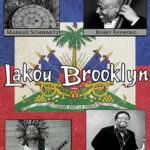 This Haitian roots/folk/jazz quartet features a blend of originals, modern arrangements of traditional Haitian vodou/folkloric music, and jazz standards. Reaffirming and celebrating the Afro-Caribbean roots of jazz and music of the "Americas," 4 celebrated musicians from the Haitian music community, also fluent in the language of jazz and folk music, bring you a fun night of hoppin/rockin' music at Erv's, 2122 Beekman Place, right off Flatbush Ave. Plus great Vietnamese food at a reasonable price.
Markus Schwartz – Haitian drums/percussion; Monvelyno Alexis – guitar/vocals; Bobby Raymond – contrabass; Godwin Louis – alto sax
Check out their sound here: www.lakoubrooklyn.com. $5 suggested donation supports the musicians and PLG Arts.